Kohler Belay™ Walk-In Tubs
Getting in and out of the bathtub can be hazardous for anyone, but this is especially true when you get older. If you are tired of having to step in and out of your bathtub or shower, Ultimate Baths By Southern can help!
When it comes to bathroom comfort and safety, we have just what you are looking for. You can choose from a wide selection of styles of walk-in  tubs to make your bath more comfortable, safer, and more convenient.
All of our walk-in tubs are made using high quality fiberglass material with an easy-to-clean-, durable high gloss finish. And, depending on what you want, you can fully customize your bathtub with various options.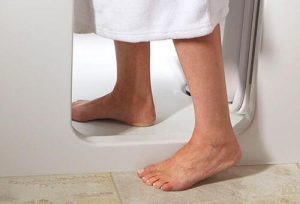 Ultra‑Low Step‑In
Effortlessly enter and exit your bath with our ultra‑low 3″ step‑in threshold—the lowest of all step‑in tubs on the market. Embrace your independence and feel secure each time you bathe.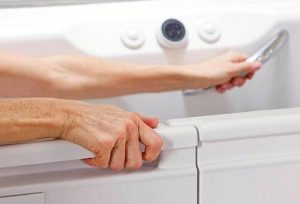 Easy‑to‑Grip Handrails
Ease in and out of your walk‑in bath with the help of our handrails. For your safety, our handrails are positioned on the interior and exterior of the tub, these handrails also allow for a firm grip as you transition from a standing to seated position.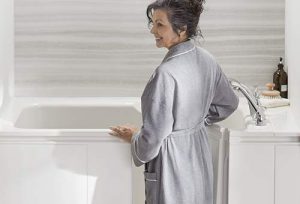 Extra‑Wide Entry Door
Our extra‑wide door is at least 20% wider than other step in tubs, and opens all the way in to give you more mobility. Once you close the door, our easy-to-turn handle safely secures an airtight seal.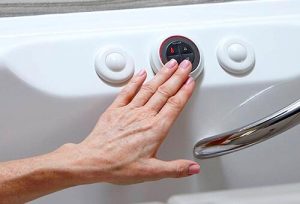 Easy-to-Reach Controls
Adjust your Bask™ heated surfaces, BubbleMassage™ air jets and hydrotherapy whirlpool jets while safely seated in the tub. Our ergonomic control panel is easily accessible from any position in the bath.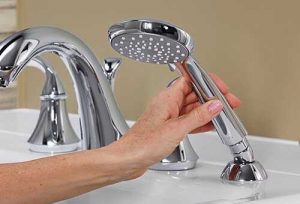 Multifunctional Showerhead
Like all Kohler tubs and baths, our walk‑in bath features the best faucets and hand shower in the industry—all bearing the trusted Kohler name. Always within reach, the ergonomic spray head pivots to target hard-to-reach areas. Enjoy the relaxation of a bath with convenience of a shower.
Click On A Video Below to Find Out More About A Kohler Walk-In Tub
Kohler Belay™ Walk-in Bath – Experience Safe Bathing
Walk-in Bath- Hydrotherapy Video